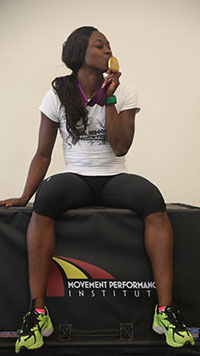 "Special thanks to Movement Performance Institute and Dr. Christopher Powers whose analysis has helped me improve my running form. As an Olympic Gold Medalist, every tenth of a second counts!"
—Jeneba Tarmoh,
USA Track and Field,
2012 London Olympic Games Gold Medalist
About MPI
---
The Movement Performance Institute (MPI) is a state-of-the-art clinical facility dedicated to understanding the biomechanical basis of healthy and disordered human motion. The basic philosophy behind MPI is human health and quality of life depends on the ability to move skillfully and efficiently. Furthermore, it is our belief that movement dysfunction is the root cause of many overuse and sport related injuries of the musculoskeletal system. To this end, we provide in-depth biomechanical evaluations as well as rehabilitation and consultation services for persons with musculoskeletal complaints or those looking to enhance physical performance and/or prevent injury.
Through objective measurements of motion, forces/pressures, muscle activation patterns and muscle performance, more effective clinical interventions can be designed and better long-term outcomes achieved. Although a primary focus of MPI is dedicated to the evaluation of persons who are injured or are having difficulty moving, we also perform biomechanical assessments aimed at enhancing physical performance and preventing injury in non-injured persons; including return to sport evaluations for those who have completed rehabilitation following injury and/or surgery and are striving to return to previous activity levels as quickly and safely as possible.
Beyond enhancing the physical well-being of persons with movement impairments, MPI also is committed to education and research. MPI offers post-professional courses aimed at educating clinicians in the areas of clinical biomechanics and rehabilitation. Furthermore, MPI is active in carrying out clinical research to better understand the root causes of various musculoskeletal conditions as well as optimal methods to restore function following injury.