"Thanks to Dr. Powers and his whole team for helping me get back to kite surfing. Their program has truly changed my life and improved all of my physical activities."
—Scott Halley
Services
---
Return to Sport/Injury Prevention Training
MPI specializes in return to sport/injury prevention training. Such training typically is performed following the conclusion of formal rehabilitation before the athlete returns to full sport participation. The goal of the training is to ensure that the athlete is prepared for the demands of athletic competition and to minimize the risk of re-injury. All training is one-on-one and focuses on improving muscle strength, power, speed, agility as well as minimizing biomechanical risk factors related to injury. Feedback training using high speed video, muscle activation sensors, and force plates is used to assist the athlete achieve peak performance.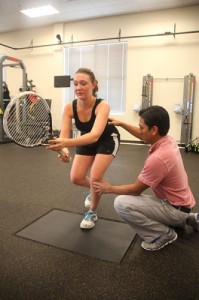 Click Here to Enlarge